Christians in parts of Nigeria, Africa's most populous nation, suffer at the hands of armed militants.
By Agnes Aineah, ACI Africa
Abandoned Church buildings are a common sight in various church premises in Adamawa State in northeastern Nigeria, within the Catholic Diocese of Yola. What's left of the once vibrant worship places are desecrated buildings, some burnt to the ground owing to the region's protracted insurgency.
In some places, burnt vehicles have been left behind to tell the story of the suffering that Christians in this part of Africa's most populous nation have endured at the hands of Boko Haram and other armed militants.
The same can be said about Borno State covered by the Catholic Diocese of Maiduguri and several other places in northern part of the West African country, according to Doris Mbaezue, who works in the communications unit of Caritas Nigeria.
Catholics in the country fear visiting their places of worship due to the attacks, and are holding secret meetings in "undefined places" to pray together, Mbaezue told ACI Africa in a March 23 interview.
"Churches are abandoned," she said. "Catholics in Nigeria have been known for being vibrant in the Church, but this is no longer the case especially in Adamawa and Borno States."
She said Catholics in the two Nigerian States, "organize and meet in totally undefined places to quench their thirst for communal prayers. They no longer go to their places of worship because they know they will be killed if they do."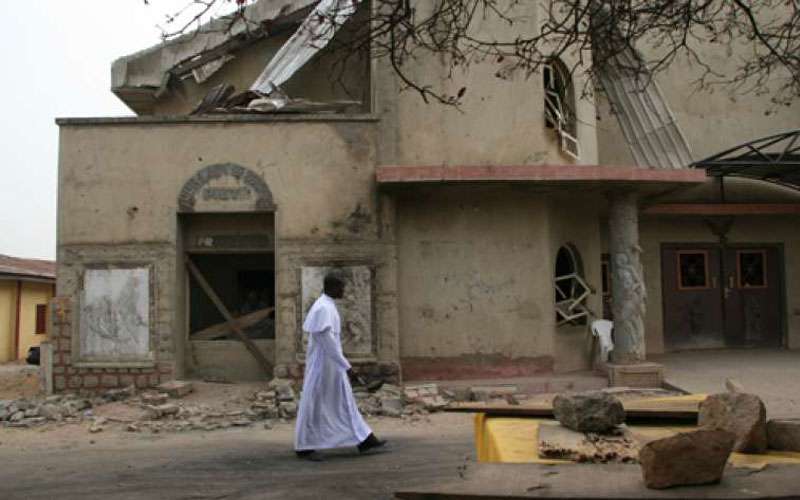 A Catholic Priest walks in front of damaged St. Leo the Great Catholic Church in Enugu State, Nigeria. Credit: Aid to the Church in Need (ACN)
The Caritas official further said people in Nigeria's most volatile areas have fled for safety and are living in local government areas where they rely on development agencies for their livelihood.
Those left behind in villages face the danger of attacks every day and are subjected to restricted movement, including being prohibited from going to their farms, she said.
The challenges notwithstanding, the faith in the country continues to grow by the day, Mbaezue.
"People are professing their faith proudly," she said. "One would imagine that the attacks that target the religious would frighten them but no. Priests and seminaries who are giving their lives for their faith is the strongest motivation to the people here. More and more people are willing to die to defend their faith."
Mbaezue, who is Nigerian, said that attacks in the West African nation by militants who want to conquer and take charge forcefully have spiraled out of control, leaving many people in camps where they face malnutrition and starvation.
Caritas Nigeria, the development arm of the Catholic Bishops' Conference of Nigeria, which covers 58 Catholic Dioceses, is working with other local and international partners to help alleviate the suffering of the internally displaced people, according to Mbaezue.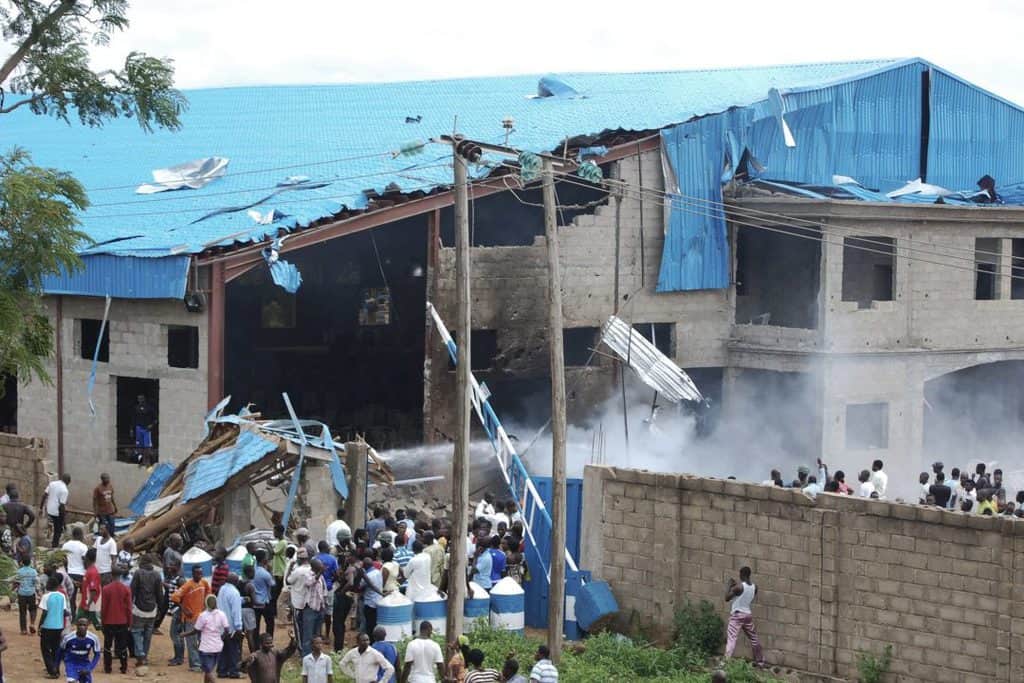 People gather near the damaged Shalom Church after deadly bombing in 2012 in the northern Nigerian city of Kaduna. (CNS photo/Stringer via Reuters) .
The charity's areas of focus include emergency and humanitarian response, health and HIV, agriculture and livelihoods, good governance, and anti-human trafficking and migration.
Help is given according to the varied needs of the different Dioceses, Ms. Mbaezue tells ACI Africa the March 23 interview.
In a majority of the States located in the Eastern part of Nigeria, Caritas has implemented health programs in hundreds of primary and secondary health facilities.
The organization's anti-human trafficking and migration intervention is aimed to address repeated cases of illegal migration in the country.
"Young Nigerians are taking risks every day as they seek to leave the country in search of greener pastures especially in Europe. They go through Libya and many of them die in the desert," Mbaezue said.
Those who manage to make a U-turn and come back are taken up by Caritas Nigeria to helps them rebuild their lives, she said.
The core areas of intervention of the emergency and humanitarian response, on the other hand, are Adamawa and Borno States that are riddled with insurgency, she said.
In these two States, she said, Caritas Nigeria has partnered with the United Nations International Children's Emergency Fund (UNICEF), other U.N. agencies and European Caritas entities, and the Nigeria government to deliver aid to victims of Boko Haram insurgency.
In Adamawa and Borno State, for instance, Caritas Nigeria is overseeing UNICEF-funded projects that have brought other partners on board to reduce malnutrition among children aged between six and 59 months.
"Children in these places are severely malnourished because of what insurgents have done, causing loss of livelihoods and starvation," Mbaezue saus, adding that the aim of the project is also to prevent future instances of malnutrition.
Here, parents are taught how to prepare healthy foods for their children and also introduce to infant and young feeding practices.
In a U.N. Food and Agriculture Organization-funded project in Borno State, Boko Haram victims are given agricultural inputs such as seeds and fertilizers to engage in farming.
As for the UNHCR-funded project in Adamawa State, victims are enrolled into vocational training centers where they are equipped with skills in carpentry, tailoring, bead making, among others, to improve their livelihoods.
Caritas Nigeria is also working in collaboration with the Nigerian government to provide meals to displaced people in Borno State, Mbaezue said.
Featured image: Women pray during Ash Wednesday Mass inside the Church of the Assumption in Lagos, Nigeria, Feb. 26, 2020. In separate homilies that year, Catholic bishops advised the citizens to use Lent to pray for peace and stability in Nigeria. (CNS photo/Nyancho NwaNri, Reuters)