From firsthand experience, a California woman tells editor Margaret Gaughan about life for Japanese-Americans in internment camps during World War II.
At 87 years old, Helen Hannan Parra is on a mission: to tell everyone she can about the unjust imprisonment of Japanese-Americans during World War II, "so something like this will never happen again."
Parra was 12 years old in 1945 when her father, a lawyer, took his family with him and went to work in two of the 10 relocation centers the U.S. government had set up to segregate Japanese-Americans shortly after  Japan's bombing of Pearl Harbor on Dec. 7, 1941.
"I realized this was horrible and actually started writing a book about it under my bed," says Parra, referring to the mass incarceration of people she came to know. Though she lost her notes years ago, the octogenarian from Sacramento, Calif., never lost her memories. She shares them from her childhood perspective in Two Days and One Suitcase, the book she recently wrote with author Anne Neuberger (see sidebar).
Explaining the title, she says, "We were aiming the book toward young teenagers, who might be curious enough to say, 'Two days and one suitcase? What on earth are they talking about?' And they might pick up the book."
Such readers will meet young Helen Hannan as she, her sister Mari, 16, and brother Larry, 14, are learning why they will be leaving their "cushy" life in a Chicago suburb to live among people who in many cases had only two days to prepare to leave their life behind. The evacuees were permitted to take only whatever belongings they could squeeze into one tiny suitcase before being herded into so-called relocation camps.
"My dad told us about Executive Order 9066, which President Franklin D. Roosevelt signed on Feb. 19, 1942. FDR was under pressure from those afraid that people of Japanese ancestry could turn against us. That order resulted in our country imprisoning 120,000 people, two-thirds of them U.S. citizens," says Parra.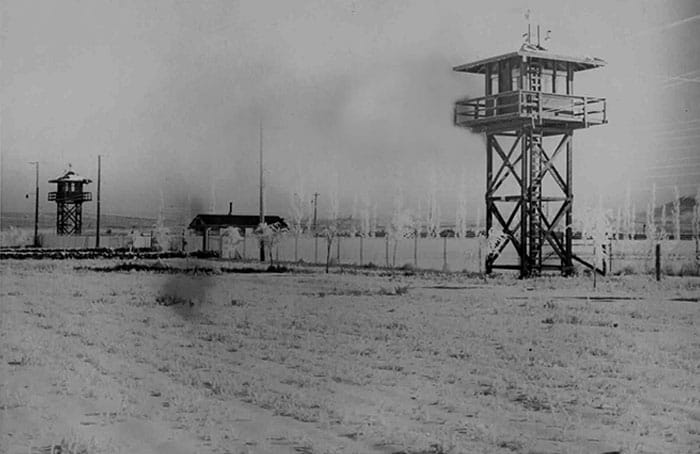 Tule Lake Segregation Center, the last of the relocation centers to close, in 1946, was surrounded by barbed wire fencing and guarded from towers by soldiers with guns. (Courtesy of Helen Parra)
When the war in Europe was over, she explains, her father, who had been in the Army training troops for Europe, felt that instead of going back to his law firm, he had a Christian duty to go and help the Japanese-Americans prepare for resettlement as the camps were being closed. "My mother agreed," says Parra. "So off we went, first to Grenada War Relocation Center in Colorado, better known as Camp Amache, and then to Tule Lake Segregation Center in California."
Readers of Two Days and One Suitcase follow the Hannans into the camps. As they enter Camp Amache, young Helen's first impression is of the barbed wire fence surrounding the area. "It made me think of a fierce animal with bared teeth," she says. At the guard house, where her dad has to show his identification, Helen is scared by a guard with "a very long gun."
She soon discovers that while her family is housed in a three-bedroom apartment with a living room, kitchen and bathroom, the Japanese internees live in barracks where crowded quarters contain no kitchen or bathroom. Internees must eat in a mess hall and use common bathrooms that afford no privacy.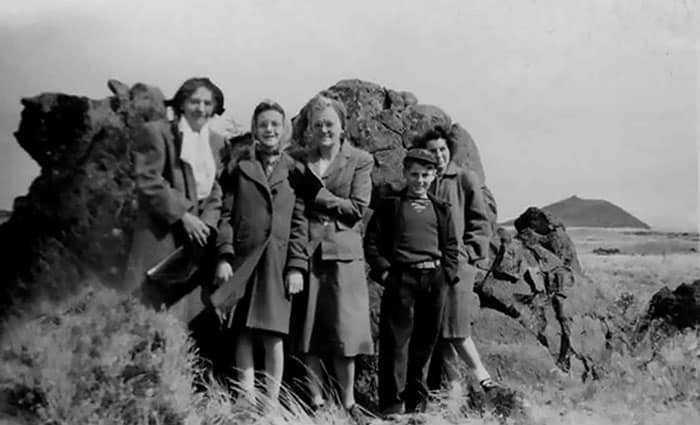 The Hannans: (r. to l.) Mari, Larry, their mom and Helen pose with a friend before the family left Tule Lake Segregation Center when their dad finished his work there in 1946. (Courtesy of Helen Parra)
Precocious Helen says: "The whole world was at war, but why should one group of Americans be put in jail?" As an adult she expresses the same disbelief: "These people had done nothing wrong, but suddenly they were the enemy because they looked like the enemy."
She and her siblings, following the example of their parents, were determined to do all they could to make life a little more bearable for the internees: inviting their new Japanese friends to their quarters to make French fries and taking the younger children to the pool in town.
The Hannans were not alone in their compassion. In both camps they met Maryknoll priests who had come into these prisons to be with the people.
Parra's face lights up when she talks about Father John Swift, who served in Amache, and Father Joseph Hunt in Tule Lake.
Father Swift had served in a parish in Los Angeles with predominantly Japanese-American parishioners. "He simply picked up the parish and moved it into the camp," Parra says. Besides offering Mass and the sacraments, she says, he offered the spiritual works of mercy. "These people were so scarred because they thought they were bad since the government had locked them up," she says. "He fed them spiritually, helping them understand they were good people and good people have been persecuted throughout history."
Father Hunt, she says, was more about the corporal works of mercy. "He would go into town and shop for the people, who were not allowed to leave the camp. Imagine the poor man having to buy so many things for so many people! But that is what he did until my sister Mari took over the shopping."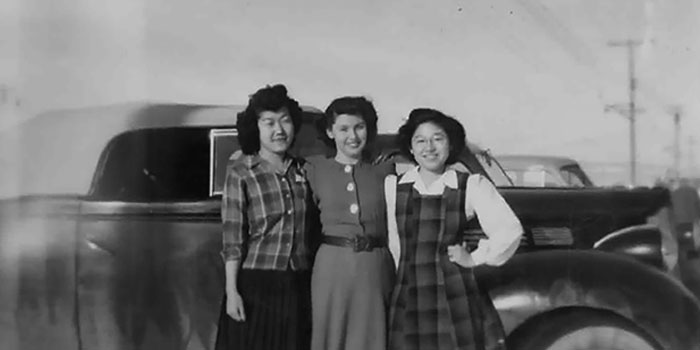 Mari Hannan is flanked by two of her friends, Aki (left) and Toshi, whom she met when her friends and their families were interned in Tule Lake Segregation Center in California. (Courtesy of Helen Parra)
Father Hunt, says Parra, had served as a missioner in Korea and Japan and had come to Tule Lake shortly after returning to the United States in 1942. She recalls him bundling as many interned children as possible into his car and taking them on outings. She was with them once when the car broke down. "It was a cold winter night," she recalls. "While we were waiting for help, Father Hunt got out of the car and sat on the bumper reading his breviary. I remember thinking: 'He's doing all these practical things, but first and foremost he is God's priest.' "
"The people adored both priests," she says, "because they chose to be here. They loved the people."
Helen and her family grew to love the people too. "We were from the Midwest and never knew any Japanese-Americans. They lived mostly on the West Coast," she says. "We were impressed by their dignity and patience. They were in a horrible situation but they felt, 'This is the only life we've got right now. And we'd better live it as well as we can.' "
In 1988 the U.S. government admitted the wrong it had done to Japanese-Americans and paid each living internee $20,000 in reparation. But Parra finds that inadequate. "You can never repair an injustice," she says. "Most of the Japanese-Americans had nothing to go back to. You can't give a doctor back his practice or a lawyer back his clients or farmers back their lands."
She repeats what her father said: "The higher the position you are in, the greater obligation you have to do the right thing."
She is hopeful that as long as this story is told to a new generation of Americans, they are less likely to repeat it when they are the leaders.
As for herself, Parra says, "Seeing this wrong as a 12-year-old has made me go around with my antenna up, searching out injustices. I will keep yelling my head off as long as I can."
Featured Image: People had two days to prepare to take one suitcase into camps. (Courtesy of Helen Parra)