A lay missioner's legal advocacy—with the prayers and support of many—changes Elizabeth's life forever.
You have met your burden of proof and I'm going to grant your application for cancellation of removal." With those words from an immigration judge recently, Elizabeth's life changed forever.
"I can get a job! I can get a paycheck," Elizabeth exclaimed. "I can have an ID and not look over my shoulder all the time."
Elizabeth was brought to the United States at the age of 3 by her mother and stepfather and has never returned to her native Mexico. She spent her life living under the radar, never able to get a "legitimate" job because she had no proof of identification and no Social Security number.
Her story is not so different from those of many people who came to the United States as young children and never benefited from legal status. Elizabeth is now 32. She was in a committed relationship for seven years with the man she married and thought would be her partner forever. But in the end, he was abusive, violent and contributed nothing to support the family. She finally broke free of that relationship to live safely with her children.
In May 2019 Elizabeth was detained after an argument with a former boyfriend led to a physical fight. The fight triggered her own trauma. When the police were called, she did not press charges—not uncommon for survivors of domestic violence—but he did. This caused her to pop up on the immigration radar, and she got placed in removal (deportation) proceedings. This started our 16-month journey together. I am a pro bono attorney for migrants and took her case.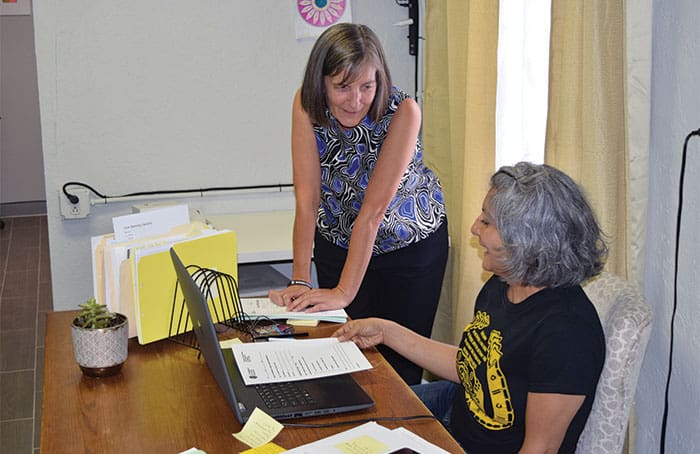 Maryknoll Lay Missioner Heidi Cerneka (left), attorney, consults with paralegal Connie Lara at Las Americas Immigrant Advocacy Center in El Paso, Texas, where the pair offers legal aid to migrants on the U.S.-Mexico border. (Meinrad Scherer-Emunds/U.S.)
So many factors got in the way of Elizabeth's chances of winning this case—misdemeanors in her record as well as some unhealthy survivor skills she had developed during the trauma and abuse she suffered as a child and adult. But Elizabeth was her own best advocate—speaking up for herself in court, and writing out in detail her story, to be included in her application to the judge. (I edited it down to 16 pages, single-spaced, because I thought the judge might stop reading!)
Someone asked me why Elizabeth never got legal status in the 29 years she has been in the United States. Of course, she wanted to, but adjusting status is expensive; it's complicated and requires a lot of documents and proof. For instance, you need clear proof that you have lived here, which is hard to get when you can't sign a lease. She didn't have the money, and she was busy supporting a husband and children by herself.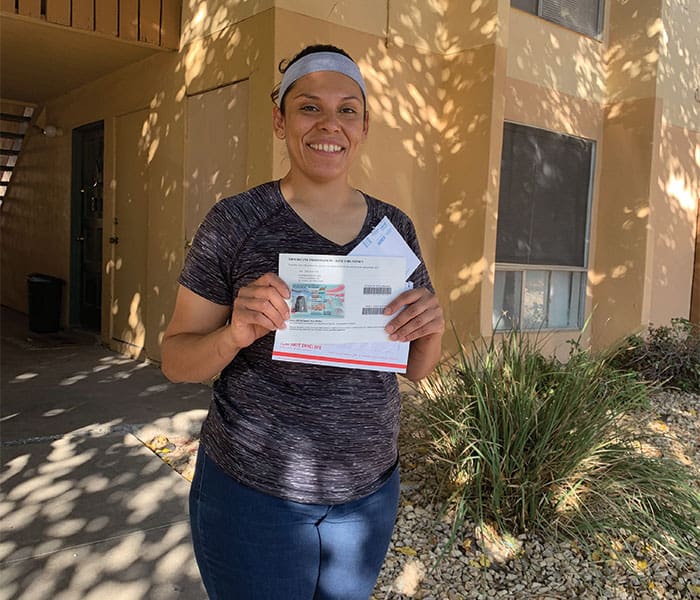 Victorious Elizabeth proudly displays her Green Card, which signifies she is legally authorized to live and work in the United States permanently. (Coralis Salvador/U.S.)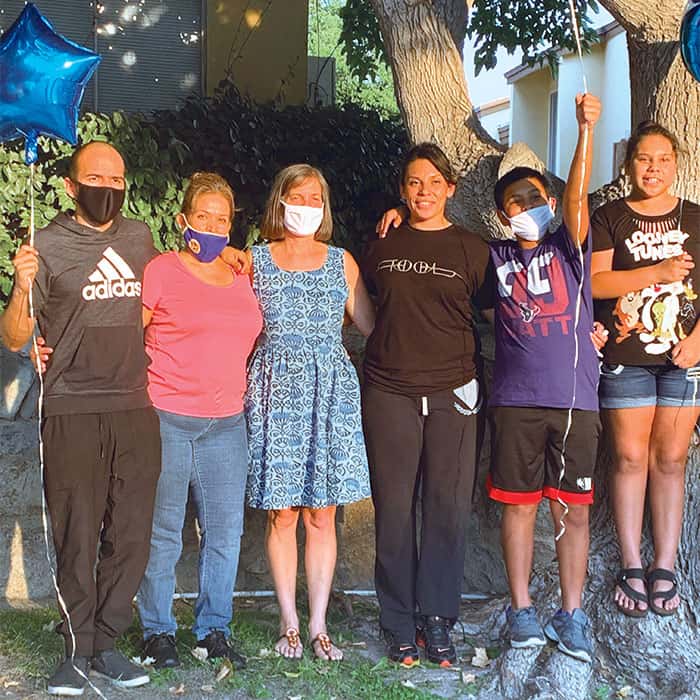 Back home after winning her case before an immigration judge to remain in the United States, Elizabeth (third from right) rejoices with her family and Maryknoll Lay Missioner Heidi Cerneka (print dress). (Coralis Salvador/U.S.)
In order to win her case, to have the judge cancel her removal from the United States, we had to prove that: She has maintained presence in the United States; she suffered battery and extreme cruelty at the hands of her U.S.-citizen husband; she has good moral character; she is not inadmissible (that is, not subject to certain factors that would not allow her to be admitted to the United States, such as drug trafficking) and that moving to Mexico would cause extreme hardship to her and her children if they were deported.
It was a tall order.
I believed in Elizabeth and her right to cancel her removal and stay here with her whole family (she was the oldest child and her younger siblings are all U.S. citizens, as are her own children).
Our odds were really bad. But I never gave up believing that she had the right to put her case out there and the right to stay. I just knew it was not very likely that the judge would see it that way.
Las Americas Immigrant Advocacy Center, where I work in El Paso, Texas, is an amazing community-based, nonprofit organization. By the time Elizabeth and I went to her final hearing, we had counted probably 20 partners who had helped with her case—psychologists, attorneys, social workers, paralegals and interns, volunteers, her doctors who sent letters of support, a recovery partner and more.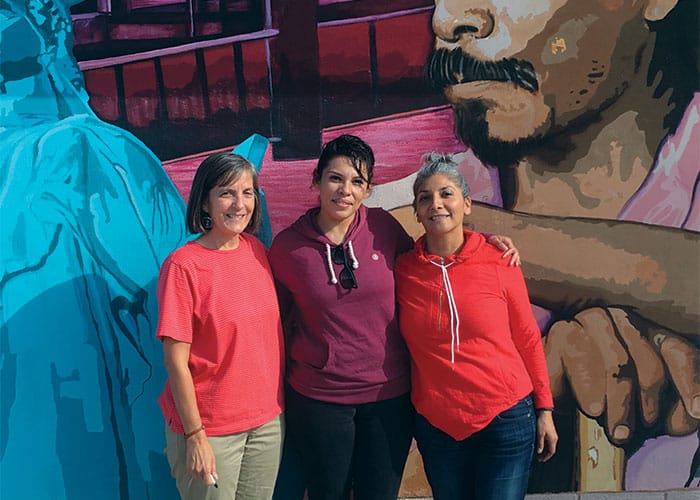 Elizabeth is flanked by her attorney, Maryknoll Lay Missioner Heidi Cerneka (left), and paralegal Connie Lara. (Courtesy of Heidi Cerneka/U.S.)
I also called on a group of people to hold Elizabeth, the judge and me in prayer the day of the hearing.
That day, we walked into court armed with her truth and carried by so many people.
Elizabeth was candid and genuine each time she stood before the judge. He found her credible and, despite criminal charges that could have sunk her, he found her to be a person of good moral character.
While the odds were against us, Elizabeth kept saying to me, "I have a good feeling. If it is true that faith the size of a mustard seed can move mountains, well, my faith is much bigger than that."
Three days after winning, Elizabeth went home for good. I got a text when she arrived that said, "Thank you for everything. Finally, home with the family. God bless you and see you soon." Our joy was complete when her Green Card came a few months later.
This reflection was originally published by the Maryknoll Lay Missioners.
Featured Image:Maryknoll Lay Missioner Heidi Cerneka (left), is an attorney who works at Las Americas Immigrant Advocacy Center in El Paso, Texas, where she offers legal aid to migrants on the U.S.-Mexico border. (Meinrad Scherer-Emunds/U.S.)
Learn More:
To read more about Cerneka and her work, go to Detained Migrants Face COVID-19 Risk and Fighting for imprisoned women around the world.