Maryknoll Father James Jackson observes the sunset of his missionary life in Japan.
The view from the little Maryknoll chapel overlooking
Lake Biwa
in Kyoto, Japan, provides a wide-ranging sense of peace. On this June day, the pleasant heat invites a short walk through the garden that leads to a tiny sandy beach. The grass, the shrubs and the trees, which seem to have been manicured to look like giant bonsais, remain still. There's only the soothing sound of the flowing lake.
From the terrace of the Maryknoll Society house adjacent to the chapel, Maryknoll Father James Jackson observes the serenity of the lake community, where he has provided pastoral service to local Catholic communities for more than 60 years.
"It is difficult to say goodbye to the community," says Father Jackson nostalgically, thinking, perhaps, of his imminent return to the United States. At the twilight of his missionary life, he has been assigned to the Maryknoll retirement house in Los Altos, California.
Today he reflects on his life in Japan. "The people have been very supportive, taking me here and there," he says, especially, he adds, since he was told that he couldn't drive anymore. "I'm very grateful not only for their assistance but for their concern. I have arthritis, my feet, I can't walk, and people are very concerned."
"There's a shrine next to us with a famous pine tree that had been there for centuries. It died a few years ago," continues Father Jackson, describing the Maryknoll center house's surroundings. "This place has a history. People used to come here for the [Shinto] fiesta. Maryknoll bought this building, renovated it, and during the war, it was taken over by a school that was originally for children of the military."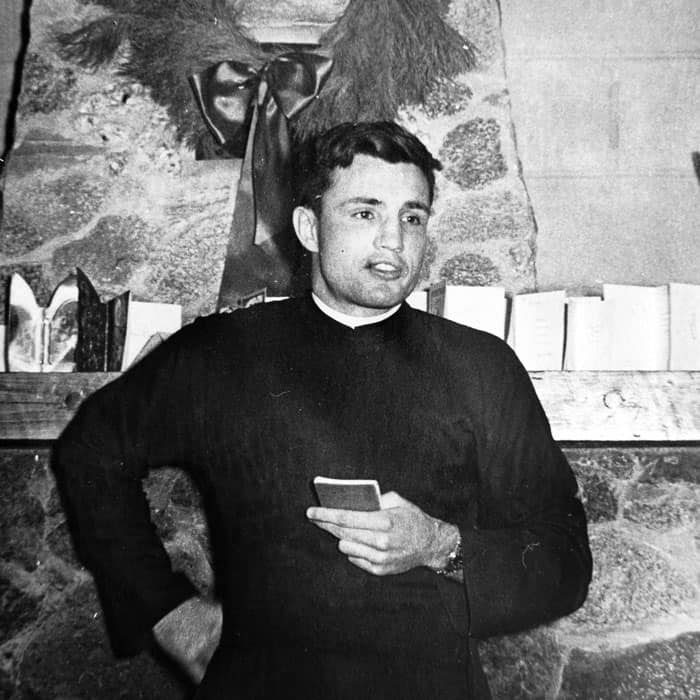 In this photo circa 1953, young Jim Jackson stands in front of the fireplace at the Maryknoll novitiate in Bedford, Massachusetts, where he was a student preparing for missionary priesthood. (Courtesy of James Jackson/U.S.)
In 1935, says Father Jackson,
Maryknoll Father Patrick Byrne,
who later became a bishop, was sent to open a new mission in Japan. He looked for a permanent Maryknoll center house in the
Shiga Prefecture
and found this old farm house sitting on two acres of land on the shores of Lake Biwa in the town of Karasaki. There were no Catholic churches in the area. Maryknoll missioners built the first church here, in the city of Otsu, near the lake, around 1938.
Regarding his own journey, the missioner from Westfield, New Jersey, says, "I became a priest when I was 29. I was influenced by the assistant priest of the parish in Westfield. I read some material on Maryknoll, which made me interested in going to the missions."
He was ordained in 1958. "I was mainly thinking of China, but I was sent to Japan, right here in August 1958," he says. "I studied the language for two years and was assigned to parish work ever since, mainly here in Shiga and Mie Prefectures. I have been in parochial work all my life and I never thought that I would do something else. I am very happy with it."
There were about 90 Maryknoll missioners in Japan when he arrived, he says. Many of the people lived in houses built before the war, not the modern houses that are seen now, says the missioner while showing a Maryknoll visitor an album with his personal pictures. As part of his parish work, Father Jackson ran a variety of programs for young people, including workshops, encounters and seminars.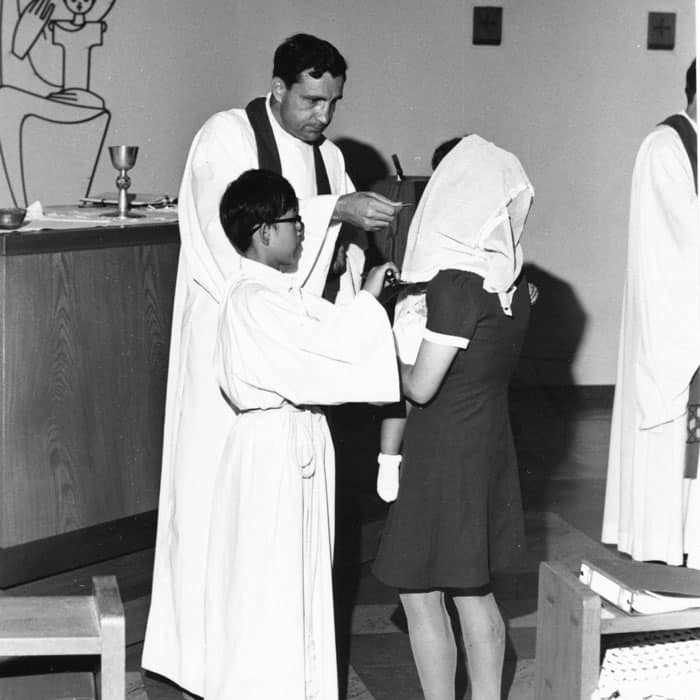 Father James Jackson gives first Communion to a newly baptized woman at Suzuka Catholic Church around 1970. (Maryknoll Mission Archives)
As an American who began mission in Japan 13 years after the end of World War II, Father Jackson says he never experienced any resentment from the Japanese, except for one incident when he went to visit one of his high school students. The student's father came out, saw Father Jackson and slammed the door. Father Jackson later learned the man was crippled in the war.
Father Jackson continues telling stories eagerly. One year, during his vacation time, he went to visit his aunt in a retirement community in New Jersey and celebrated Mass for the residents. He noticed that only one man, who was Jewish, did not attend. Later, the man approached Father Jackson to ask where in Japan he served as a missioner.
"In a place called Tsu," said Father Jackson.
"Is that spelled T-S-U?" asked the man.
"Yes, have you been there?" Father Jackson asked.
"Yes, I bombed it," the man replied.
After a brief conversation, Father Jackson learned that the man did not actually drop a bomb on Tsu, but was a radio operator with the Allied forces. They dropped bombs on Tsu even though it was not a military target. The man had regrets about his involvement. Hoping to promote the man's healing, Father Jackson later tried to communicate with him to ask if he would like to visit the people of Tsu, but unfortunately the man had died.
Maryknoll Father James Jackson served in Japan for more than 60 years. (Peter Saunders/Japan)
An avid reader, Father Jackson spoke about a book he recently read on the philosophy of work. It was written by a professor at a Buddhist university in Tokyo. The book, Father Jackson explained, described how even simple work can be meaningful to someone's life. Then he added, "We don't know how things will turn out to be." After a recent weekday Mass, he said, he was approached by a woman who told him: "Father, I got my faith at Karasaki, at one of your seminars when I was a high school student." The woman was the book author.
"The parish is the center of mission activity, because the Spirit is at work in the community," says Father Jackson. "Teaching catechism is very important, doing social work is important, but building up community is the most important part of missionary work. The community manifests the Holy Spirit. The community, the Body of Christ, is the continuation of Jesus Christ. He became flesh, human, in order to show us the face of the Father and now it is the community that carries that out."
In the warmth of this day in June, Father Jackson leaves the Maryknoll center house and slowly walks to the small chapel overlooking Lake Biwa. He puts on an alb and stole, lights a candle and celebrates a most intimate Mass.
Featured image: In this picture taken around 1980, Father James Jackson sits on the stoop of the nursery school in Hisai, Mie Prefecture. Hisai was a mission station of the Tsu Catholic Church, where he was serving. The catechist on the left is Yasuyo Udaka, and her assistant on the right is Mihoko Doi. (Courtesy of James Jackson/Japan)