Gregory McPhee, a newly ordained Maryknoll priest, is assigned to serve in mission in Bolivia. 
The coronavirus pandemic could postpone but not stop the vocational call to the priesthood for the newest member of the Maryknoll Fathers and Brothers, Father Gregory McPhee, who was ordained Saturday, August 22.
Father McPhee's ordination, originally scheduled for June 6, was postponed because of restrictions due to COVID-19. It was celebrated in August with social distancing precautions, with New York Auxiliary Bishop Edmund J. Whalen administering the sacrament of holy orders at Maryknoll's Our Lady Queen of Apostles Chapel in Ossining, N.Y.
It was a different ordination, the first ordination at Maryknoll that had to take social distance precautions because of the pandemic. Family, friends and other guests were not able to be physically present; there was no choir; only Maryknoll priests and brothers, wearing masks, were seated in the pews, respecting social distance requirements. No hugs or handshakes during the sign of peace, only bows; and the Maryknoll staple of an ordination concelebrated by some 50 priests was reduced to the minimum.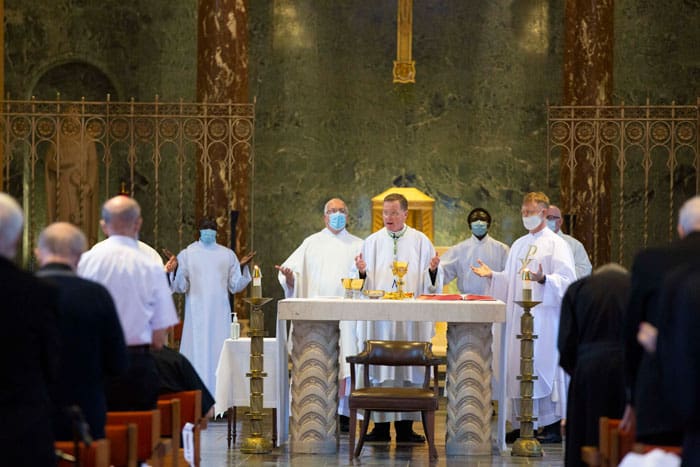 Bishop Edmund J. Whalen of New York (center) during the consecration at Father Gregory McPhee's ordination Mass, held at Our Lady Queen of Apostles Chapel in Maryknoll, N.Y. (Octavio Duran/U.S.)
Yet, as Maryknoll Superior General Father Raymond Finch explained, the ordination of Greg McPhee was different in many ways except for the joy and gratitude of having Greg "as a gift to Maryknoll and mission."
"It has definitely been a difficult year for all of us, but one bright spot is Greg's ordination," said Father Finch. "Though we maintained the protocols of social distancing, the joy of this celebration for Greg and the Maryknoll Society was palpable. God bless Greg and help him to continue to live his vocation to mission priesthood in Maryknoll despite all the challenges and difficulties. The pandemic has impacted everything that we do. But God is still at the heart of our reality, calling us all to the fullness of life. That is what mission and the Church are about."
Fathers Finch and Russell Feldmeier, seminary rector, concelebrated the ordination liturgy and Father Michael Walsh served as master of ceremonies.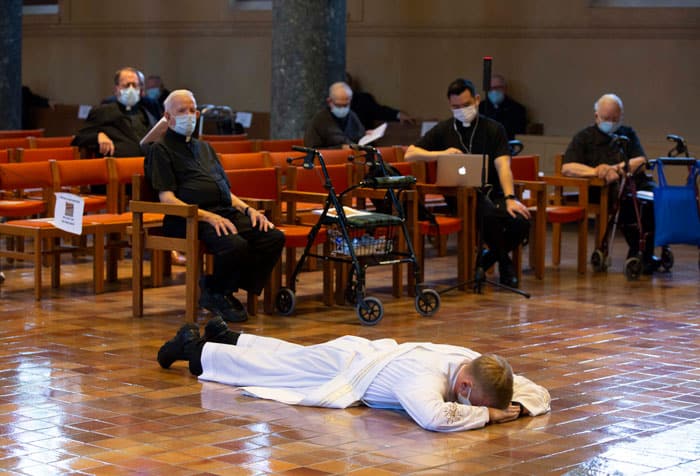 McPhee is prostrate, during his ordination Mass, as other Maryknoll Society members respond to the Litany of the Saints, while maintaining social distancing due to COVID-19. (Octavio Duran/U.S.)
"It's a different world … we don't know what's coming tomorrow," said Bishop Whalen, who, on behalf of Archbishop of New York Cardinal Timothy Dolan, thanked Maryknoll for the gift the Society is for the archdiocese.
"All of you (Maryknoll missioners) have gone into situations where you didn't know what was ahead of you, but you made it work," Bishop Whalen said. "And right now, we have no idea what's ahead of us in the Church here in New York, in the Church around the world … And as I was driving here today, I said, 'You know, these guys have lived like that every day since (Fathers Walsh and Price) came up with this idea,' so thank you. Because you got it right, we'll get it right, as long as we remember it's God who's the one who's got it right."
Congratulating Greg McPhee as a newly ordained priest, Bishop Whalen said: "All that it is in your life brought you to this moment …  there was something early on in your life that made you think: I want to make a difference." Bishop Whalen challenged Father McPhee "to be the salt and light, one who goes out there and gives the flavor of God's presence in the world."
Understanding the significance of an ordination that, in a way, was closed to the public, Bishop Whalen looked into the camera that was live-streaming it: "Those of you who are at home, family, friends, neighbors, co-workers, those of you who make it possible for Maryknoll to continue, those who are supporters by your prayers and your assistance, thank you for being with us, thank you for the opportunity to share, in a different way, what Maryknoll is about: Go out and teach all nations.
"Everybody out there, all over the world, that is seen in this chapel representing the flags of all the nations where Maryknoll serves, we are together, together not because of the Internet, but together because of the Gospel, together because of the faith, together because of the sacraments that Greg as a priest will bring to people all over the world."
The ordination, live-streamed through Maryknoll's social media, drew more than 2,200 views around the world.
Greg's mother, Carol McPhee, who watched her son's ordination at home in North Carolina, said that the family was deeply disappointed that they could not attend his ordination in person, but glad they could see it online. "The family is very happy and so proud of Greg. He has found his calling," she said. "When I was a child, I remember my mother (Greg's grandmother) donating to Maryknoll, even though she had very little extra money. She would be so thrilled and amazed that Greg has joined Maryknoll."
Greg's brother, Brian McPhee, watched the ordination at his home in California. "It is a privilege and a blessing to have a priest in the family," he said.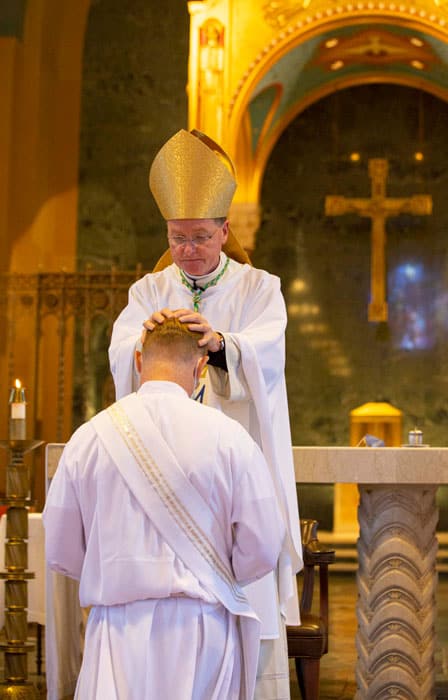 Bishop Edmund J. Whalen during the Laying on of Hands at Gregory McPhee's ordination to the Maryknoll missionary priesthood. (Octavio Duran/U.S.)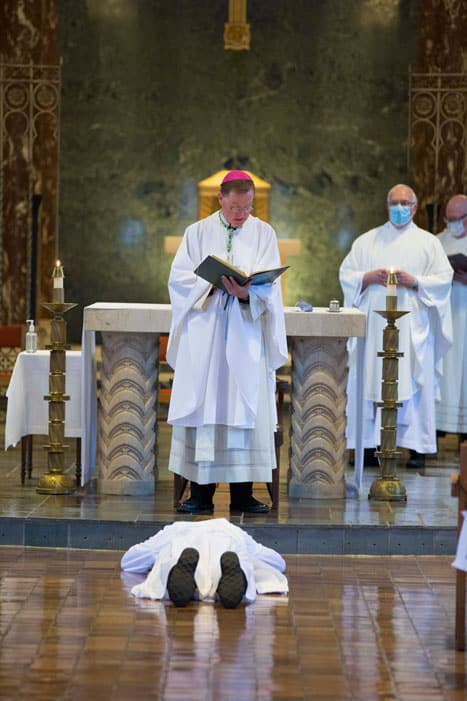 During his priestly ordination, Gregory McPhee lies prostrate on the ground, which symbolizes his unworthiness for the office to be assumed and his dependence upon God and the prayers of the Christian community. (Octavio Duran/U.S.)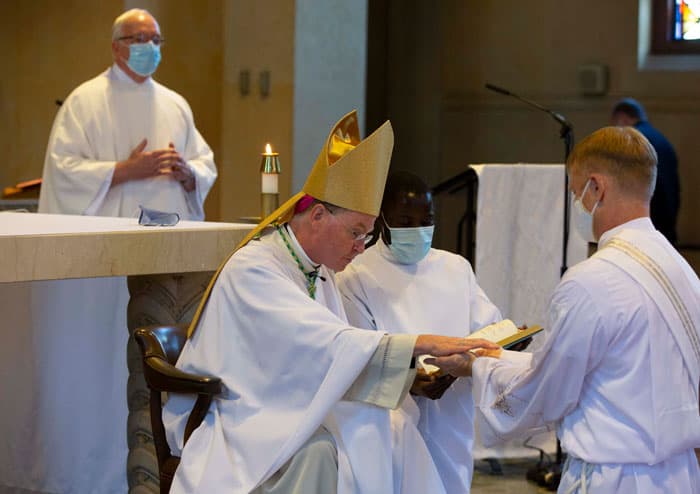 Bishop Edmund J. Whalen anoints McPhee's hands with oil at the young man's ordination to the Maryknoll missionary priesthood. (Octavio Duran/U.S.)
"This ordination is a reminder that the pandemic cannot control the vocation seed in a person," said Maryknoll's vocation director Father Rodrigo Ulloa. "Greg McPhee represents a lot to us, especially in these times. Although his family is not here today, each person present in the chapel is a relative of Greg."
After the ordination, Greg McPhee, who was previously a criminal defense lawyer in Syracuse, N.Y.,  said: "I feel good, reborn, a little bit nervous, but uplifted. I ask for your prayers, as I pray for your health, families and faith to deepen in Christ. Blessings on your communities to persevere through these challenging times to a hope-filled future."
Later in the day, Father McPhee received his missionary crucifix at the Maryknoll Sending Ceremony that presents candidates to the world as Maryknoll missioners. He celebrated his first Mass at Maryknoll's Our Lady Queen of Apostles Chapel on Sunday, August 23.
Father McPhee has been assigned to serve in mission in Bolivia. However, it is not clear when he will travel to Latin America, due to travel restrictions of the COVID-19 pandemic.
Learn more:
– To read about Father McPhee's call to the priesthood, go to "Advocating in the Spirit."
– For more on this, listen to the Among The People podcast: Journey to the Priesthood with Maryknoll, A Mystical Experience: https://maryknoll.link/3c4
Featured image: Maryknoll Father Gregory McPhee, moments after his ordination Mass, August 22, 2020. (Octavio Duran/U.S.)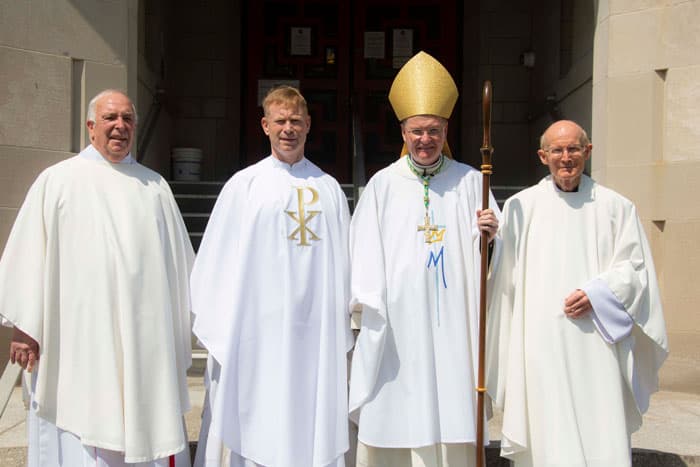 From left to right: Maryknoll Superior General Raymond Finch, newly ordained Maryknoll Father Gregory McPhee, Auxiliary Bishop Edmund J. Whalen, and Maryknoll Father Russell Feldmeier, following McPhee's ordination, August 22, 2020, at Maryknoll, N.Y. (Octavio Duran/U.S.)