Missioners call for elections that are free, fair, and safe, and that "every vote is counted."
With the 2020 presidential and congressional elections fast approaching, the leadership of the Maryknoll Sisters, Fathers and Brothers, Lay Missioners, and Affiliates issued a joint statement calling for safe, free, and fair elections and for candidates, voters, and election officials to "act truly in the service of the common good."
Representing Maryknoll missioners and affiliates in 26 countries, the leaders of the four branches of Maryknoll mission acknowledge the importance of U.S. elections for people around the world, particularly the vulnerable, and the importance of U.S. leadership in promoting democratic norms and fair elections.
"We are alarmed by the parallels we see between emerging conditions in the United States and those we have witnessed at times in other countries during more than one hundred years of mission when elections have not been transparent, inclusive, and accountable," they said.
"We are troubled by efforts at voter suppression, especially as it relates to historic systemic racism in the United States," the statement said. "We are also concerned by the spread of misinformation aimed at eroding trust in our democratic institutions. As the United States often instructs other countries, in order to be credible elections must reflect the free expression of the will of the people."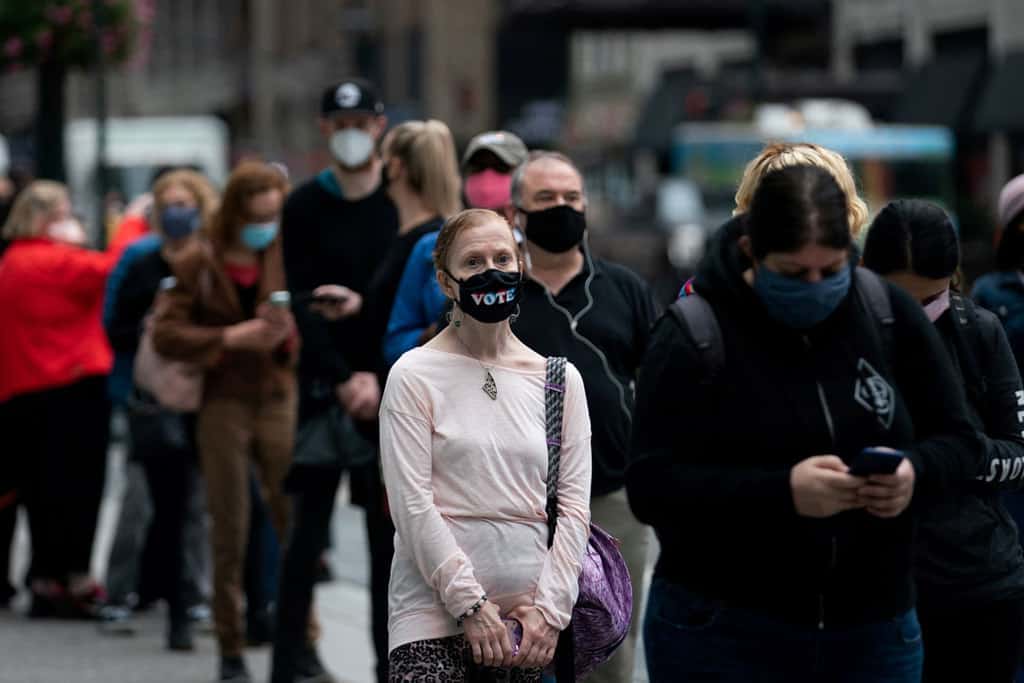 Voters in New York City line up to cast ballots outside Madison Square Garden Oct. 24, 2020, on the first day of early voting for the presidential election. (CNS/Jeenah Moon, Reuters)
The leadership called for an end to "divisive language that fosters hate and misunderstanding. It is our hope that voters scrutinize candidates' policy proposals through the lens of those who, both in the U.S. and overseas, are affected by poverty, violent conflict, human rights violations, trade policies and ecological destruction."
They encouraged voters to make a voting plan, vote early and remain patient for election results. "We call on officials to ensure that everyone has a chance to vote in a free, fair, and safe manner, and that every vote is counted," they said.
"The COVID-19 pandemic has exposed inequality and injustice in the United States and around the world like never before," said Susan Gunn, director of the Maryknoll Office for Global Concerns in Washington, D.C., which released the statement. "Now is the time to call on our strengths—democracy, constitutional order and the rule of law—to bring us together to care for each other and care for the common good. As the United States has demonstrated for more than 200 years, safe, free, and fair elections have the power to change our world."
Feature image: A man sanitizes a voting booth to fight the spread of the coronavirus disease at a polling station on Staten Island, N.Y., Oct. 25, 2020. (CNS/Andrew Kelly, Reuters)