Catholic official condemns 'cruel and inhuman' act after a spate of attacks on Dalits.
Police in the northern Indian state of Uttar Pradesh have arrested a man suspected to have thrown acid on three Dalit minor sisters in Gonda city.
Ashish Chaurasiya was arrested after a brief exchange of fire with police on Oct. 13, police said on Oct. 14.
However, the suspect's mother Laxmi said her son was framed by police and has demanded a probe by the Central Bureau of Investigation. Chaurasiya was arrested soon after Yogi Adityanath, the state's chief minister, called for tough action against those responsible for the acid attack.
The sisters, aged 8, 12 and 17, were attacked while they were sleeping. While two received minor burn injuries, one has more serious injuries on her face. They are all stable in the hospital.
"Last month's gang rape of a Dalit girl in the state who later died was not even forgotten and now more Dalit girls have been attacked. Very unfortunate and highly condemnable. It is a cruel and inhuman act," Father Vijay Kumar Nayak, secretary of the Indian bishops' office for Dalits and lower classes, told UCA News.
"There are several reasons why all of a sudden we are hearing the news of atrocities on people of Dalit origin. The main reason is their socioeconomic condition because the accused person knows that Dalits cannot revolt."
Dalits, or untouchables, are the lowest caste within Hindu society. Huge numbers of Dalits have converted to Christianity and Islam over the decades, though in reality the religions offer limited protection from societal prejudice.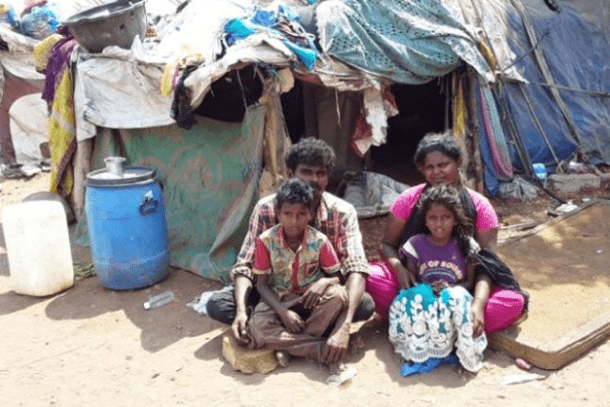 A Dalit family outside their makeshift shack in Chengalpattu in the Indian state of Tamil Nadu. (Photo courtesy of Special Projects in Christian Missionary Areas)
The word Dalit means "trampled upon" in Sanskrit and refers to all groups once considered untouchable and outside the four-tier Hindu caste system. Government data shows 201 million of India's 1.2 billion people belong to this socially deprived group. Some 60 percent of India's 25 million Christians are of Dalit and tribal origin.
Father Nayak said Dalits are always on the receiving end of mistreatment from other people and the government.
"People take them for granted that they are here to be suppressed, which is very dangerous for a democratic country like India," the priest said.
"There is a trend that if you attack Dalits, you will become famous among your community. Another threat is that people who support Dalits and minorities are targeted by so-called elite groups who brand them as anti-national."
Attacks on Dalits have been common in India recently.
In July, the tonsure of Vara Prasad by police in East Godavari district of Andhra Pradesh state became national news with even the president of India taking note of it.
Also in July, Dalit youth Yericharla Kiran died in police custody in Prakasam district of Andhra Pradesh after he was detained for not wearing a face mask.
In neighboring Tamil Nadu state, a 63-year-old Dalit father and his 31-year-old son died in police custody in June.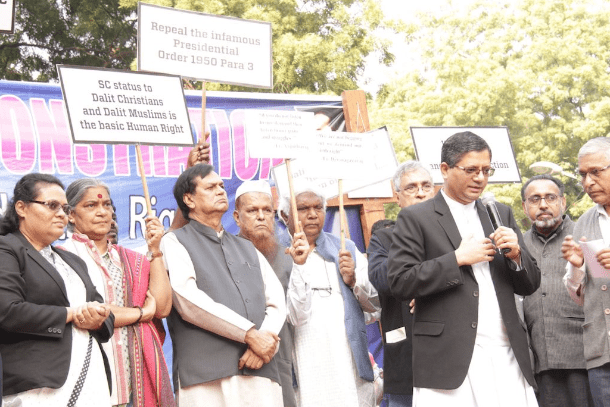 Dalit Christians, activists and civil society members protest in New Delhi on Dec. 4, 2018, demanding that the Indian government give them the same rights enjoyed by their Hindu counterparts. (Photo: Bijay Kumar Minj/UCA News)
Mukti Prakash Tirkey, editor of a weekly newspaper in New Delhi, said there is no fear among people about breaking the law in cases involving Dalits, tribal people and minorities.
"Unless the mentality of people changes towards their fellow brethren that in front of the law we all are equal and all Indians are my brothers and sisters, we can hear the news of Dalit and tribal atrocities every other day," the human rights activist said.
Feature image: Dalit Christians and activists from across India protest in New Delhi on Aug. 10, 2019, demanding that the government give them the same rights as enjoyed by their Hindu counterparts. (Photo: Bijay Kumar Minj/UCA News)