A Maryknoll lay missioner in Tanzania tells the success story of Samwel Chacha.
The other evening, I received a call from Samwel Chacha, an orphan I worked with in Tanzania, where I serve as a Maryknoll lay missioner. Raised by his aunt, Samwel joined our program at Uzima Centre in the city of Mwanza in 2003, when he was in third grade. By the time he was in secondary school, he was the leader of our group for teens. Active in scouts and excelling academically, he looked forward to continuing his studies.
Unfortunately, in 2011 he failed the national exam required to go beyond secondary level within the public-school system. We see cases like this from time to time, where a student's test results do not reflect their ability. There are multiple reasons, including widespread corruption and bribery.
But God had plans for Samwel. His older sister had recently married, and as her closest male relative, the bride price paid by the groom went to Samwel. This mahari (dowry) was in the traditional form of cows.
Determined to pursue a two-year nurse-midwifery course, Samwel applied to a private nursing school in Dar es Salaam. He sold enough cows to pay for his first year. As we expected, he did very well. However, the remaining cows were not enough to get him through his second year, so we decided to help out.
I advised Samwel, "Finish, get a job and save up to go back to school. Go as far as you can go."
Well, apparently he took those words to heart. He called to let me know that he had completed further studies for a nursing diploma and that he has just started a four-year medical school program to become an anesthesiologist! He is at the largest referral hospital in the country, where he has been a frontline worker on the COVID ward.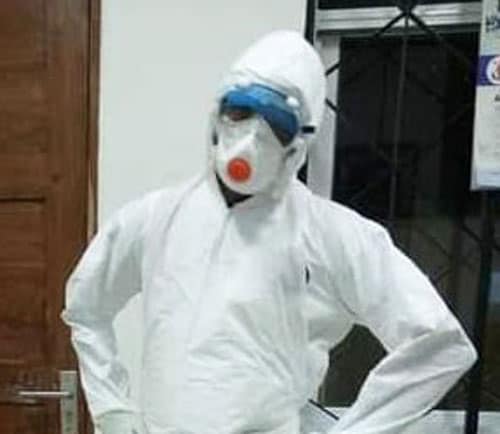 Samwel working as a frontline nurse on the COVID-19 ward (Courtesy of Maryknoll Lay Missioners)
Samwel has always been an exceptional young man, but this was all beyond what I could have ever imagined. He assured me that the cases of COVID-19 are down, with only two to three new cases a day and very few deaths (compared to earlier this year, when the situation was horrific).
I asked for some photos, and he sent more than 20. He thanked me for helping him to complete that first nursing course, without which he would have never gotten to where he is today.
I couldn't have felt prouder if Samwel were my own son.
This story was originally published by the Maryknoll Lay Missioners. 
Read more:
To read more about Uzima Centre, go to "Learning from the masters of resilience" and "Called to the fullness of life."
Featured image: Samwel Chacha is working hard to make his dreams come true. He is studying at medical school to become an anesthesiologist. (Courtesy of Maryknoll Lay Missioners)