A Maryknoll lay missioner from Kansas serves with love in Haiti, making masks for her neighbors during COVID-19 outbreak.
Despite rapidly growing numbers of cases of COVID-19 and deaths in Haiti, where I serve as a Maryknoll lay missioner, many people still refuse to believe the virus is here. Yet those of us who know it is here, and has been for months, strive to be examples of love and caution even as we fear that the extent of the pandemic is being drastically underreported.
When the initial outbreak was confirmed in mid-March, some Haitian citizens tried to attack those who tested positive. One radio announcer declared the government was lying to the people and the virus was made up. In response, several of the sanitization stations for hand-washing that had been set up by health organizations were burned in giant piles.
Even as the number of cases rose—about 5,500 and nearly 100 deaths reported as of late June— the number of people seen wearing masks here seemed to decrease. The general attitude seemed to be "I'm over it" and a majority of people were not taking the pandemic seriously, if they believed it at all.
Yet for the three of us serving here with the Maryknoll Lay Missioners and the colleagues we work with, our decision to stay is about accompanying the people and doing what we can, even if that is just setting an example. When we go out on the street, we wear our masks.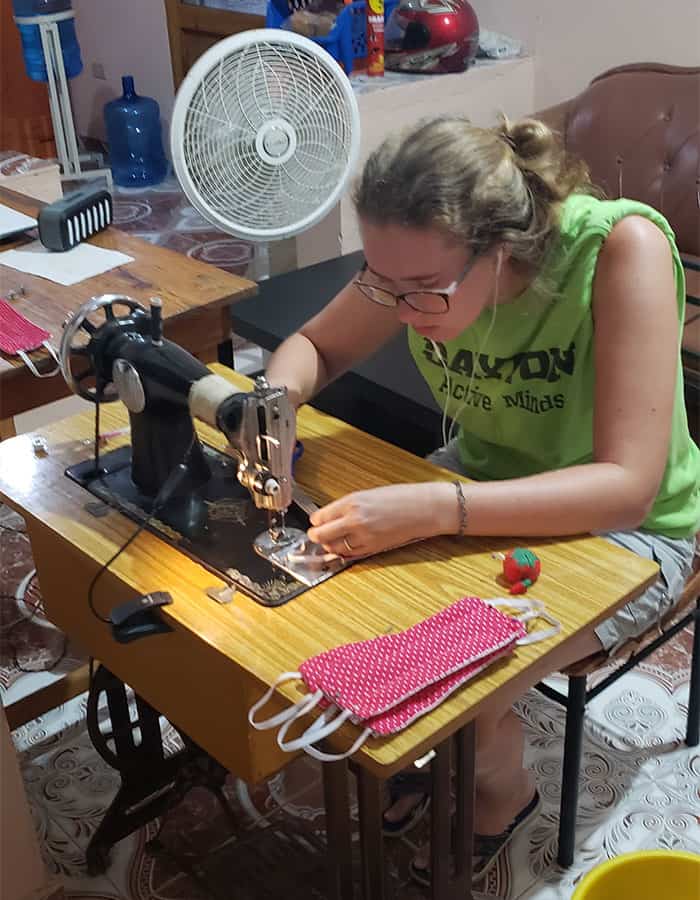 Jillian Foster, newest Maryknoll lay missioner in Haiti, painstakingly joins in mask making shortly after her arrival coincided with the arrival of COVID-19. (Courtesy of Abby Belt/Haiti)
In deciding to stay in Haiti as the pandemic approached and then arrived, we figured we could either ride out the coronavirus crisis here and be able to respond first when we do get to the other side of this, or we could scramble and try to get home and ride it out there, with no known guarantee of when we'd get to return to our beloved Haiti. For me, even carefully considered, the choice was not too hard.
In the community of Gros Morne, where we live, we are working to educate the public and have taken steps to enable people to protect themselves. Jillian Foster, our newest Maryknoll lay missioner in Haiti, and I have been making masks for various community groups, thanks to the generous backing of Mercy Beyond Borders, one of my regular ministry sites when schools are in operation.
Normally, my main ministry is providing continuing education to teachers at Jesus-Mary School in Gros Morne and assisting with a scholarship and empowerment program for young women at Mercy Beyond Borders, a non-profit that works with marginalized women and girls.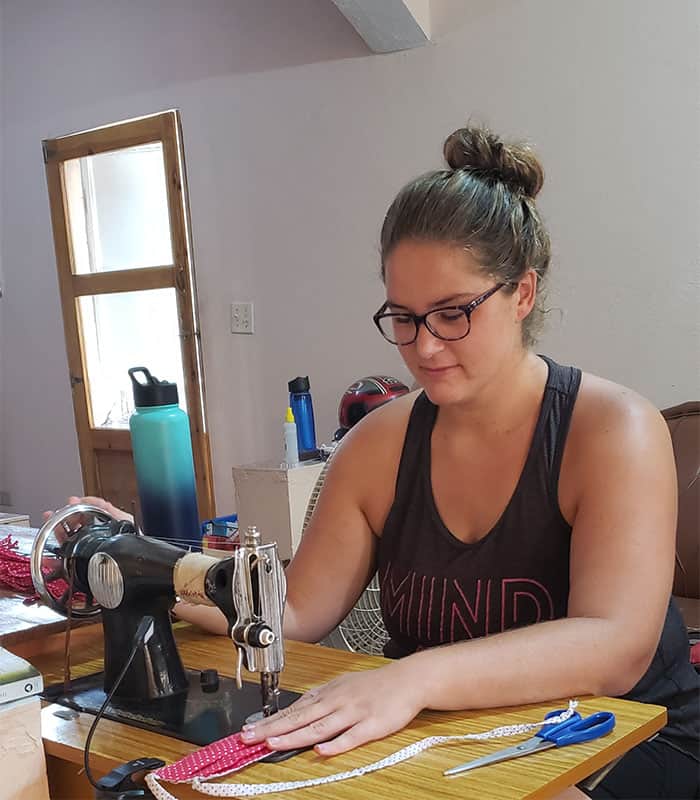 Abby Belt, a Maryknoll lay missioner from Wichita, Kansas, uses an old treadle sewing machine to make masks for her neighbors in Haiti during COVID-19 pandemic. (Courtesy of Abby Belt/Haiti),
With schools having been shut down since March 20, my focus has shifted to helping in the morning at an agronomy center known as Grepen, a joint project of the Montfort missionary priests and the sisters of the Religious of Jesus and Mary, and making masks in the afternoon.
Jill came out of two months of language school and was here for a week when everything shut down. She has shown tremendous spirit and patience as we navigate life in this time, especially considering she has not gotten to explore her ministry options.
Suzanne "Sami" Scott, a 24-year veteran of the Maryknoll Lay Missioners, continues to work at the henhouse project near Grepen, which provides income for local women, a market for local corn producers, and fresh eggs for the women to resell in town or use in their shops.
Nowadays, we try to avoid the market, which is usually overcrowded. We wear masks to work every day and keep our distance from others as much as possible. Our days are rather repetitive, but I believe we're blessed to be able to continue working outdoors during this time.
As of this writing, the current state of emergency was scheduled to end July 20 and schools were set to reopen in August. The reality is that Haitians are essentially on their own because of the lack of resources to deal with the pandemic. Many Haitian families are facing extreme hardship because of the significant decrease in remittances, that is, money sent home from Haitians living and working abroad. The decrease is due to the global economic decline combined with job losses in the United States, which has the largest number of Haitians outside of the country.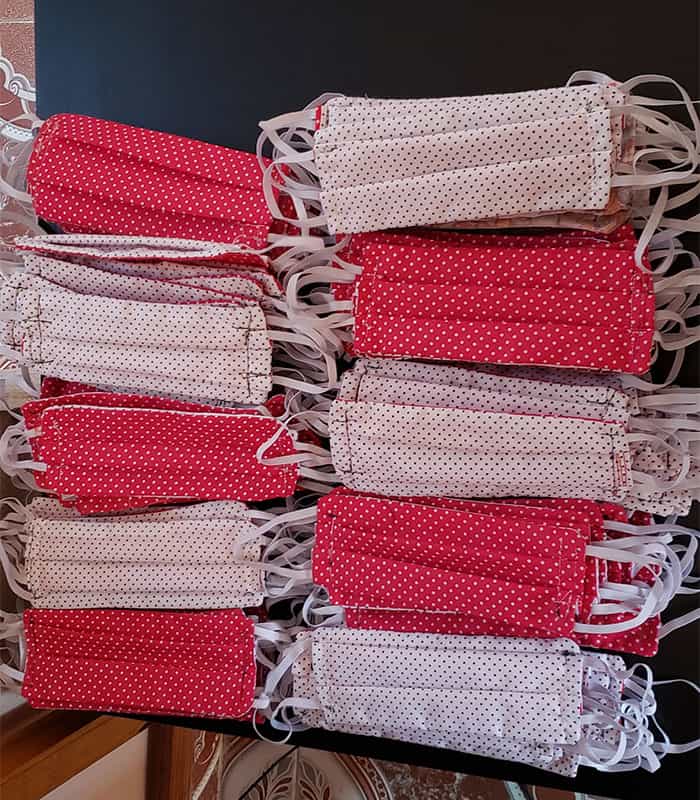 Finshed face masks were made by Maryknoll lay missioners serving in Haiti to provide this personal protective gear for their neighbors during COVID-19 pandemic. (Courtesy of Abby Belt/Haiti)
Like so many of the world's poor and marginalized, many Haitian families rely on the informal economy and live day to day. Under the stay-at-home order, they are being asked to choose between going out and working to make money for food and risk exposure or staying inside and dying from starvation with their children.
Meanwhile, we are in place doing what we can. Despite all of the uncertainty, fear and overwhelming moments of powerlessness to truly effect change, hope anchors us. It is in the voice of the local people who are rallying to educate their peers about this virus. It is in the doctors and nurses prepping to do their jobs even knowing they will likely be overwhelmed with patients. It is in people donating to help purchase the equipment for hand-washing stations, neighbors continuing to look out for one another, and little moments of kindness shared with people we pass on the street.
Haitian friends continue checking on us every day to ask if our families are still OK and if we ourselves are well. Generosity here is as endless as the dust and humidity.
So, when I make masks, I find joy and sew with love. Every stitch is a smile, just as a friendly call, a kind word, or a simple yet profound little prayer helps us all weave together our story. I hope our tapestry in this time continues to show our strength, resilience, humor, and, above all, our great capacity for love.
Alongside our Haitian neighbors, we continue to try choosing love in simple ways and weave this beautiful, complex story of us.
Featured Image: Maryknoll Lay Missioner Abby Belt sews masks for her neighbors in Haiti during COVID-19 pandemic using an electric sewing machine that soon malfunctioned. (Jillian Foster)/Haiti