Three years after a brutal military crackdown led thousands to flee Myanmar for Bangladesh, refugees remain in limbo.
By Stephan Uttom and Rock Ronald Rozario, UCA News
Abul Kalam chokes in emotion every time he looks back to the worst and most unforgettable memory of his life three years ago.
Kalam, 59, a Rohingya Muslim from Maungdaw in Myanmar's Rakhine state, fled his home on Aug. 29, 2017, with his 13-member family including his wife, three sons, their wives and grandchildren.
It was only days after a genocidal military crackdown on Rohingya in Rakhine following attacks by Rohingya militants on Myanmar security forces on Aug. 25, triggering a mass exodus of Rohingya to neighboring Bangladesh, dubbed one of the world's worst humanitarian crises since the end of the Vietnam War.
Since Aug. 25, 2017, more than 742,000 Rohingya have fled to Bangladesh, according to the United Nations refugee agency UNHCR. Rohingya refugees observe Aug. 25 as Genocide Day.
"We left home in the night and made our way through the forest to flee to Bangladesh to avoid the military. My wife, Halima, 45 was lost in the forest and we failed to find her as we rushed to save our lives," Kalam, a farmer, told UCA News. "I have lost hope that she is still alive."
Kalam's family found a place at Balukhali refugee camp in Cox's Bazar district of Bangladesh. The camp of more than 250,000 Rohingya has grown since the 2017 crackdown as the largest camp — Kutupalong with over 400,000 refugees — could no longer accommodate new arrivals.
In Balukhali, Kalam and his 12-member family live in makeshift tarpaulin tents, surviving on aid from charity groups and Bangladesh's government for survival.
Despite relative peace and safety, Kalam yearns to return to his home, and homeland, one day.
"There is no dignity in refugee life. In Maungdaw we lived in a large house and grew rice and maize in our fields. We had a happy and peaceful life. I often dream of going back home and cultivating the fields again," he said.
Kalam says he and his family would return home once Myanmar government ensured basic rights including citizenship, freedom of movement and an end to abuse.
"The problem is we hear nothing from either side about any progress that could give us some hope," he lamented.
The teacher who became a volunteer
Abdur Rahim, 55, is a schoolteacher from Akyab, the old Muslim name of Rakhine state capital Sittwe.
He moved to Bangladesh with his 15-member family including his wife, three daughters, their husbands and eight grandchildren and settled in Kutupalong camp.
Rahim has been working as a majhi (voluntary community leader) assisting Bangladesh's government and charity groups in aid operations and maintenance in the camp.
He expressed similar sentiments to Kalam when it comes to refugee life in Bangladesh and repatriation to Myanmar
"We are eager to go back home. We have repeatedly appealed to the Myanmar government to ensure our dignified return and allow us to live in the country as citizens with equal rights," Rahim told UCA News.
However, he also noted that recent restrictive actions in camps have distressed many refugees.
In 2019, thousands of Rohingya refugees attended a large rally in Kutupalong to mark Genocide Day and to demand justice for atrocities, which shocked and frustrated a section of local media, the public and the government.
The event, coupled with growing concerns over refugees' alleged involvement in crimes including drugs and human trafficking, robbery and murders, led to the government banning some NGOs for alleged misappropriation of funds. Barbed-wire fences were erected around camps and mobile phones and the internet were banned. More than a dozen Rohingya refugees, accused of various crimes, were killed in "crossfires" — a euphemism for extrajudicial police shootings.
The government also revived a plan to relocate about 100,000 refugees from Cox's Bazar to Bhasan Char (Floating Island), a flood-prone, uninhabited islet in the mouth of the Bay of Bengal.
The moves have triggered criticism at home and abroad from rights groups including Human Rights Watch (HRW) and Amnesty International.
"There are hundreds of thousands of people in the camps and only a few bad people might be involved in criminal activities. The whole community cannot be blamed for crimes of the few and, if found guilty, the criminals should be punished through court prosecution, not summary justice like crossfire killings," Rahim said.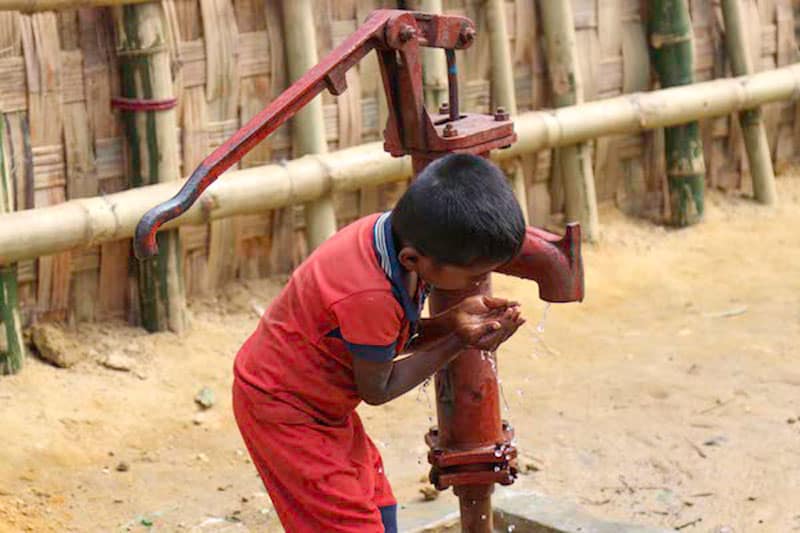 A Rohingya child drinks water from a tube well at Balukhali refugee camp in 2017. (Photo: Stephan Uttom/UCA News)
Repatriation and justice in limbo
Rohingya Muslims have lived in Rakhine for centuries, yet many in Buddhist Myanmar brand them as illegal immigrants from Muslim-majority Bangladesh.
Due to persecution by the military junta and extremist Buddhists, thousands of Rohingya have fled to various countries, mostly to Bangladesh. Before the 2017 exodus there were more than 300,000 Rohingya living in Bangladesh and large communities settled elsewhere including Pakistan, India, Malaysia, Indonesia and Saudi Arabia.
In 2018, Myanmar and Bangladesh signed a deal to repatriate Rohingya. However, two attempts to send back Rohingya failed amid protests from refugees as they refused to return without concrete promises of basic rights including citizenship and safety.
On the eve of the third anniversary of Rohingya exodus, New York-based HRW issued a statement strongly criticizing Myanmar for not making any visible effort to end abuses against Rohingya or to assist their repatriation. The group has also been critical of restrictive moves in Bangladeshi camps.
In January, the International Court of Justice (ICJ) ordered Myanmar to take action to stop genocide against Rohingya and to protect evidence of crimes against them following a genocide lawsuit filed by the Gambia. Aung San Suu Kyi's government has so far failed to comply with the court order, HRW said.
Nur Khan, a human rights activist based in Bangladeshi capital Dhaka, agrees that HRW was right to criticize inaction to solve the Rohingya crisis.
"There are no strong concerted efforts to reach an acceptable solution to the Rohingya problem. Myanmar has not shown any willingness, the international community has not applied enough pressure and, instead of strong diplomatic efforts, Bangladesh has made moves to put restrictions in the camps," Khan told UCA News.
The geopolitical game over the Rohingya should end and powerful countries should press Myanmar hard to change its policy on Rohingya, and Bangladesh should make efforts to make the lives of Rohingya better with support like education, he noted.
Muhammad Shamsu Douza, additional commissioner of the Bangladesh Refugee Relief and Repatriation Commission, said HRW should praise Bangladesh for sheltering refugees.
"We have many limitations, yet we have been generous enough to shelter and feed more than one million Rohingya. So, instead of criticizing Bangladesh, HRW should draw the attention of powerful countries to press Myanmar for the return and peaceful life of Rohingya," he told UCA News.
Catholic charity Caritas Bangladesh has been one of the leading aid groups operating among Rohingya since 2017. A total of 91,598 Rohingya families or more than 420,000 refugees have benefited from various aid services, said Marcel Ratan Guda, acting project director of the Emergency Response Program.
"In broad, the government, aid groups and even security forces have been very enthusiastic, supporting refugees who are living here happily. Sometimes refugees tell us, maybe due to little progress and uncertainty over repatriation, they may not return to Myanmar," Guda told UCA News.
This story was originally published by UCA News.
Featured image: Rohingya Muslims head to refugee camps in Cox's Bazar of Bangladesh after arriving from Myanmar in 2017. (Photo: Stephan Uttom/UCA News)