As a native-born Haitian, Maryknoll Father Romane St. Vil leads an effort to help his earthquake-devastated homeland.
Father Romane St. Vil's first reaction to the news that a major earthquake had hit his homeland of Haiti, leveling much of Port-au-Prince, the capital, was disbelief, followed by worry. The Maryknoll priest had only recently returned from spending Christmas in the West Indian nation with family and friends.
"The first thing that came to my mind was: It's impossible. It's impossible," says St. Vil, who was born in the port city of Jérémie in southwest Haiti. "For a country that's been suffering for so long and the poverty is so rampant, I thought, not again, not this country. It's tough."
It's tough. That phrase peppers conversations with the 44-year-old missioner, an obvious understatement, as if, despite multiple emergency trips back to the island since the Jan. 12 disaster, disbelief still haunts him.
For St. Vil, the earthquake, which, according to the U.S Geological Survey, ranks as the world's fifth deadliest on record with more than 220,000 fatalities, has become the crusade of his mission life, a cause that is both professional and personal. Within days of the quake, the Maryknoll Fathers and Brothers turned to their only Haitian priest to spearhead an effort to respond to a disaster that is unprecedented in this hemisphere.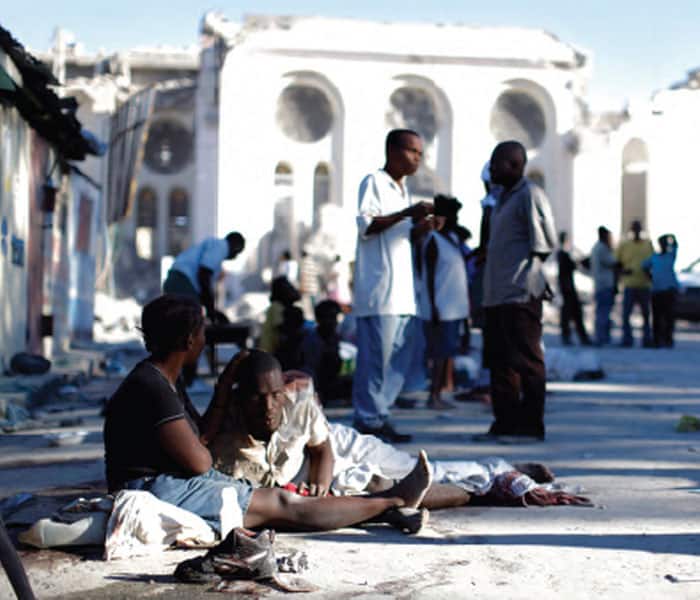 Injured people rest outside the cathedral in Port-au-Prince, Haiti the day after quake. Father St. Vil began to lead relief trips to his home country within weeks following the tremor. (CNS photo/Eduardo Munoz, Reuters/Haiti)
"I feel the urgency to go back and really do something to help my people," he says. Since the 7.0 magnitude temblor, the mis-sioner's experiences have been a hectic mix of shock, sadness, relief and, eventually, hope.
Within hours of the initial quake, St. Vil received word that his closest relatives on the island, cousins with whom he'd lived as an adolescent in Port-au-Prince, were safe. "It was a big relief," he says, though as the days went on, he learned that not everyone in his family survived. At least five members of his extended family, including two more distant cousins, were killed.
A month after the quake, St. Vil and fellow Maryknoll Father Dennis Moorman were in Haiti with a dozen volunteer doctors and nurses—half of them Haitian-Americans—providing medical care to hundreds of people who were only then getting medical attention for injuries incurred weeks earlier and for subsequent infections. The mis-sioner specifically sought out ravaged parts of the capital that had yet to receive direct medical assistance. The next month, March, St. Vil returned to Haiti with an even bigger team, this time with 22 medical volunteers, again going where their help was most desperately needed.
"It's tough," he says with a sigh and a subtle shaking of his head. "These are the people left alone. No one really pays attention to those areas and as a missionary society I think we have a commitment to the poorest of the poor and we look for those places, especially where people haven't been getting any help and that's the people we really need to help."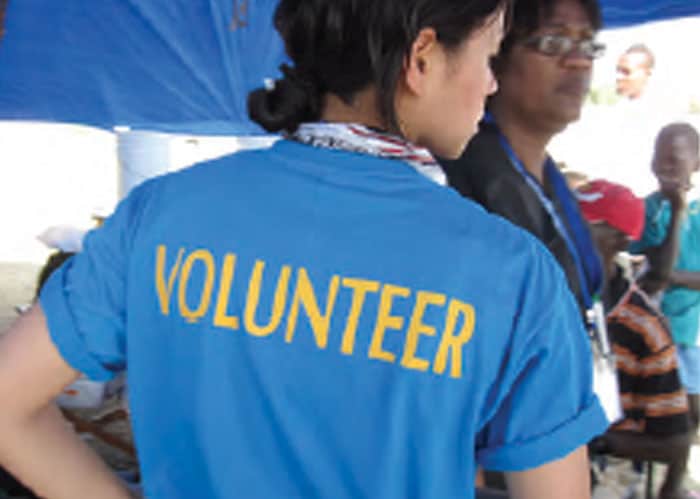 A medical volunteer staffs a makeshift clinic on a relief trip led by Maryknoll Father Romane St. Vil, who helped facilitate outreach to areas in dire need of help. (Courtesy Mano-a-Mano/Haiti)
At the same time, he laments that he was unable to do more to relieve immediate need even as he focused on a few camps that mostly have been unaided by others. "It feels good to go help, but at the same time I'm very, very sad," he says. "We cannot help everyone and there's a desperation and we're faced with that and think, 'Oh, God, I wish we could do more.' "
To do more is St. Vil's true mission to Haiti. As he struggled to bring immediate relief to those suffering acutely from the quake, his knowledge of the country and the Creole language was indispensable in coordinating and translating virtually non-stop for the medical teams. His underlying mission was and is to craft a long-term project that reflects Maryknoll's mission charism and to establish a lasting presence that will lead to permanent improvement in the quality of life for the Haitians. Maryknoll, after all, is not a relief agency, but a mission society.
Among the possibilities St. Vil is exploring are physical therapy and trauma relief, he says. With thousands upon thousands of amputees and people with other debilitating injuries and hundreds of thousands of people suffering physical and emotional trauma, the need has only just begun, he says.
In the meantime, people remain in the streets, living in the shadows of ruins or fearful of returning to cracked and unstable buildings. Such is the case of the cousins in Port-au-Prince with whom St. Vil lived as a high school student. Although their house remains standing, they live under a canvas shelter in the street in front of their home, about 10 minutes' walk from the crumbled presidential palace. Next door, their neighbors' bodies remain buried beneath the rubble.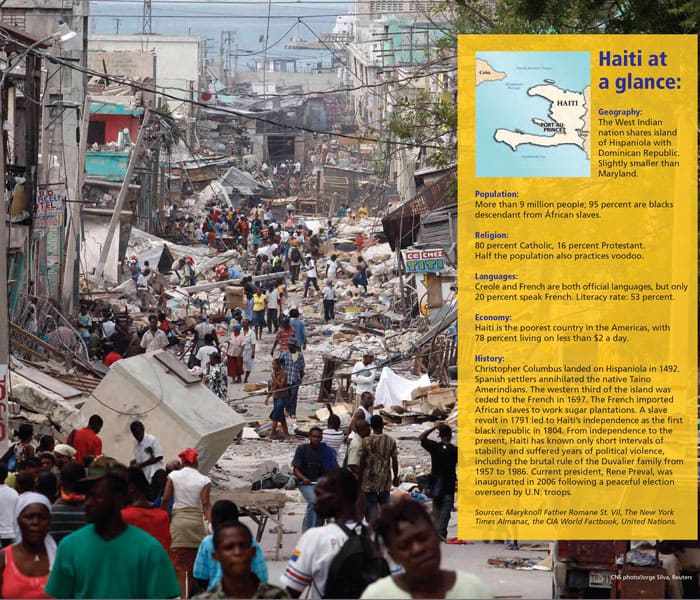 Maryknoll Father Romane St. Vil returned to the country of his birth to assist in relief efforts following the 2010 earthquake that devastated the country. (CNS photo/Jorge Silva, Reuters/Haiti)
"Everybody's on the street," he says. "And you've got people in the house next to you and their bodies are still under the rubble and you're there alive," St. Vil says. "You know what? People are very grateful that they are alive, and that's what I felt when I saw them."
"Really just to know that even if they're living under a tent at least they're alive, because so many people died," he says. "For somebody to be alive, it's a blessing." St. Vil estimates the death toll could eventually reach 300,000, counting all the bodies yet to be pulled from the ruins and people lingering and still dying from injuries and complications after the earthquake.
As the son of a Haitian school teacher-principal and a U.S. Army officer, St. Vil grew up spending his summer in the States with his father and the school year with his mother on the island. After graduating high school, he moved to New Jersey to be with his father and go to college. There, as a congregant of St. Michael's parish in Elizabeth, he discovered his calling to the priesthood. His international background and devotion to the Blessed Virgin drew him to Maryknoll. As a seminarian he served in Tanzania and was assigned to Cambodia after his ordination in June 2003. Most recently assigned to promotion work, St. Vil has forged strong ties with Haitian communities in the States.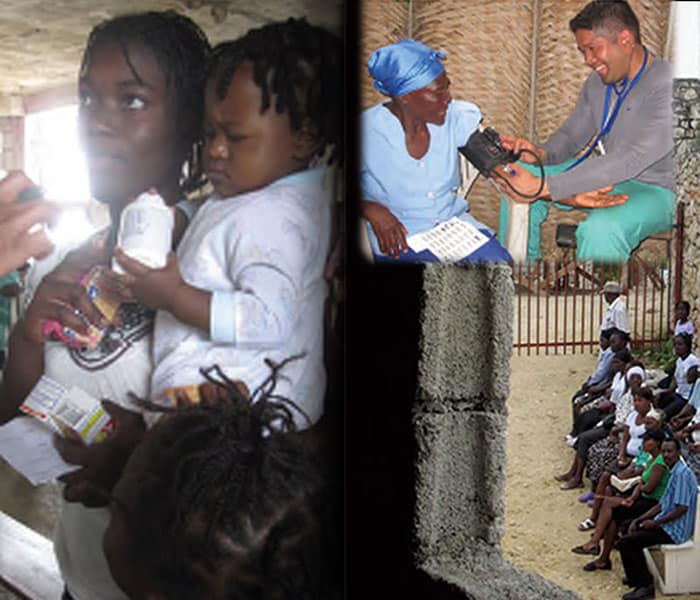 Father St. Vil led relief trips to his homeland, Haiti, during the weeks and months immediately following the 2010 earthquake that devastated the already poor country. (Courtesy Mano-a-Mano/Haiti)
It is these connections with fellow Haitians that he draws upon now as he helps others to bring their skills to aid the land of his birth while he also fans embers of hope amid the destruction. St. Vil tells of a doctor in Haiti who lost his wife and children in the quake yet refuses to succumb to despair as the physician works tirelessly to tend to the injured.
"It seems like those things give me energy to go out and help," the Maryknoller says. "I don't know if it's a way to mourn but you just want to go out there and help others."
"Death always brings opportu-nities for people to change and to be united and reach out to each other and build up a community or even a family," he says. "I'm taking advantage of that to keep everybody together and to help Haiti as one, as a united force, as a unified effort."
Featured image: Maryknoll Father Romane St. Vil, who is originally from Haiti, led relief trips offering assistance after the 2010 earthquake that devastated his homeland. (Courtesy Mano-a-Mano/Haiti)